Rear Window Defroster and Outside Rearview Mirrors Defroster (if equipped) Switch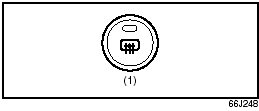 Rear Window Defroster and Outside Rearview Mirrors Defroster (if equipped) Switch
When the rear window is fogged, push this switch to clear the window.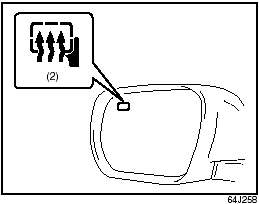 If the outside rearview mirror has the mark (2), it is also equipped with the outside rearview mirrors defroster. When you push the switch (1), both the outside rearview mirrors defroster and the rear window defroster will operate simultaneously.
An indicator light will be lit when the defroster is on. The defroster will only work when the engine is running. To turn off the defroster, push the switch again.
CAUTION:
The rear window defroster and the outside rearview mirrors use a large amount of electricity. Be sure to turn off the defroster after the window has become clear.
See also:
Safety
Suzuki also takes advantage of Nissan electronic controls, such as active limited-slip traction control, electronic stability system, hill descent control and hill start assist. Hill descent contr ...
Tachometer
Tachometer The tachometer indicates engine speed in revolutions per minute. CAUTION: Never drive with the engine speed indicator in the red zone or severe engine damage can result. ...
Air Conditioning System
If you do not use the air conditioner for a long period, such as during winter, it may not give the best performance when you start using it again. To help maintain optimum performance and durabil ...