Rear Window Defroster and Outside Rearview Mirrors Defroster (if equipped) Switch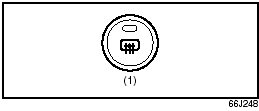 Rear Window Defroster and Outside Rearview Mirrors Defroster (if equipped) Switch
When the rear window is fogged, push this switch to clear the window.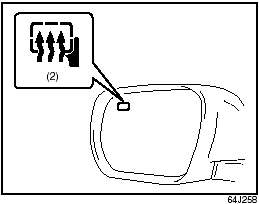 If the outside rearview mirror has the mark (2), it is also equipped with the outside rearview mirrors defroster. When you push the switch (1), both the outside rearview mirrors defroster and the rear window defroster will operate simultaneously.
An indicator light will be lit when the defroster is on. The defroster will only work when the engine is running. To turn off the defroster, push the switch again.
CAUTION:
The rear window defroster and the outside rearview mirrors use a large amount of electricity. Be sure to turn off the defroster after the window has become clear.
See also:
Glove Box
Glove Box To open the glove box, pull the latch lever. To close it, push the lid until it latches securely. WARNING: Never drive with the glove box lid open. It could cause injury if an a ...
Safety
As an all-new model, the Kizashi hasn't been crash-tested yet by the Insurance Institute for Highway Safety. It features eight airbags, including seat-mounted torso airbags for all outboard seats ...
Overview
Suzuki, known primarily as a maker of small vehicles and high-performance motorcycles, marks the global debut of the 2010 Suzuki Kizashi (pronounced "Kee-Zah-Shee"), the company's first ...