Rear Window Defroster and Outside Rearview Mirrors Defroster (if equipped) Switch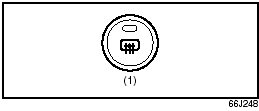 Rear Window Defroster and Outside Rearview Mirrors Defroster (if equipped) Switch
When the rear window is fogged, push this switch to clear the window.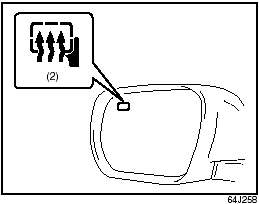 If the outside rearview mirror has the mark (2), it is also equipped with the outside rearview mirrors defroster. When you push the switch (1), both the outside rearview mirrors defroster and the rear window defroster will operate simultaneously.
An indicator light will be lit when the defroster is on. The defroster will only work when the engine is running. To turn off the defroster, push the switch again.
CAUTION:
The rear window defroster and the outside rearview mirrors use a large amount of electricity. Be sure to turn off the defroster after the window has become clear.
See also:
Gearshift Lever
Manual transmission 5-speed automatic transmission Your vehicle is equipped with either a manual transmission or automatic transmission. The gearshift lever for each transmission type is show ...
Headlight Aiming
Since special procedures are required, we recommend you take your vehicle to your SUZUKI dealer for headlight alignment. ...
Shortcomings
The Kizashi does have its shortcomings, one of which is backseat roominess: As mentioned in the 2010 review, legroom in particular is a couple of inches below the norm. It also has a couple of qui ...