Rear Window Defroster and Outside Rearview Mirrors Defroster (if equipped) Switch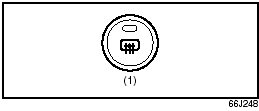 Rear Window Defroster and Outside Rearview Mirrors Defroster (if equipped) Switch
When the rear window is fogged, push this switch to clear the window.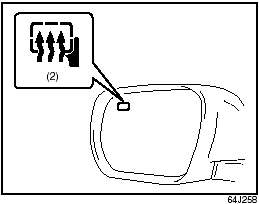 If the outside rearview mirror has the mark (2), it is also equipped with the outside rearview mirrors defroster. When you push the switch (1), both the outside rearview mirrors defroster and the rear window defroster will operate simultaneously.
An indicator light will be lit when the defroster is on. The defroster will only work when the engine is running. To turn off the defroster, push the switch again.
CAUTION:
The rear window defroster and the outside rearview mirrors use a large amount of electricity. Be sure to turn off the defroster after the window has become clear.
See also:
Heating System
Description of Controls Temperature selector (1) This is used to select the temperature by turning the selector. Blower speed selector (2) This is used to turn on the blower and to select blow ...
2009 Suzuki Equator review By G. Chambers Williams III
The obvious question is why Suzuki added a midsize pickup for 2009 when trucks are losing favor. "Why not?" responds an unapologetic Gene Brown, Suzuki's vice president of marketing. ...
Steering Wheel
Steering Wheel Check the play of the steering wheel by gently turning it from left to right and measuring the distance that it moves before you feel slight resistance. The play should be betw ...