Rear Window Defroster and Outside Rearview Mirrors Defroster (if equipped) Switch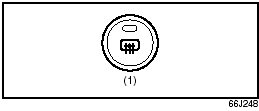 Rear Window Defroster and Outside Rearview Mirrors Defroster (if equipped) Switch
When the rear window is fogged, push this switch to clear the window.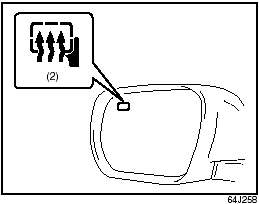 If the outside rearview mirror has the mark (2), it is also equipped with the outside rearview mirrors defroster. When you push the switch (1), both the outside rearview mirrors defroster and the rear window defroster will operate simultaneously.
An indicator light will be lit when the defroster is on. The defroster will only work when the engine is running. To turn off the defroster, push the switch again.
CAUTION:
The rear window defroster and the outside rearview mirrors use a large amount of electricity. Be sure to turn off the defroster after the window has become clear.
See also:
Corrosion Prevention
It is important to take good care of your vehicle to protect it from corrosion. Listed below are instructions for how to maintain your vehicle to prevent corrosion. Please read and follow these in ...
2008 Suzuki Grand Vitara review By Steven Cole Smith
The market for small sport utility vehicles is among the toughest in the automotive world: So many good products, but only so many buyers. What's a little manufacturer like Suzuki to do? Offer g ...
Bold and refined interior
The "X-over" design continues inside the vehicle, with curving wraparound forms and trim materials and fabrics that have high visual and tactile quality. Circular motifs and a flowing ce ...