Gear Oil
Specified Gear Oil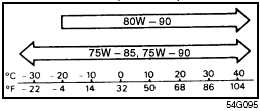 Manual transaxle (API GL-4)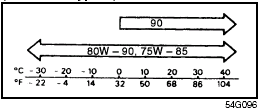 Rear differential oil (i-AWD)/Transfer oil of automatic transaxle model (i-AWD) (API GL-5 Hypoid)
When replacing gear oil, use the appropriate viscosity and grade as shown in the charts below.
We highly recommend you use: API GL-4 SAE 75W-90 for manual transaxle gear oil
API GL-5 hypoid gear oil SAE 80W-90 for rear differential oil (i-AWD) and transfer oil of automatic transaxle model (i-AWD)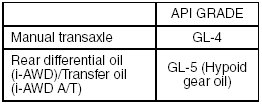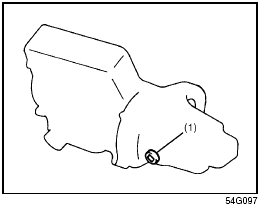 Manual transaxle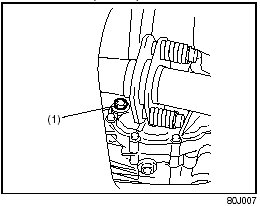 Transfer case (i-AWD)
(1) Oil filler and level plug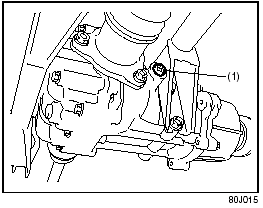 Rear differential (i-AWD)
(1) Oil filler and level plug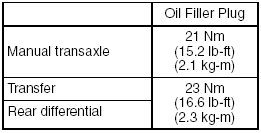 Tightening torque
Gear Oil Level Check
The manual transaxle, transfer gears (i- AWD A/T) and rear differential (i-AWD) are lubricated with gear oil. To check the gear oil level in any of the above locations, use the following procedure: 1) Park the vehicle on a level surface. Set parking brake and stop the engine.
2) Remove the oil filler plug (1).
3) Check the inside of the hole with your finger. If the oil level comes up to the bottom of the plug hole, the oil level is correct. If so, reinstall the plug.
4) If the oil level is low, add gear oil through the filler plug hole (1) until the oil level reaches the bottom of the filler hole.
Gear Oil Replacement
Since special procedures, materials and tools are required to change the automatic transaxle oil, it is recommended that you trust this job to your authorized SUZUKI dealer.
See also:
Tilt Steering Lock Lever (if equipped)
The lock lever is located under the steering column. To adjust the steering wheel height: 1) Pull up the lock lever to unlock the steering column. 2) Adjust the steering wheel to the desired h ...
2010 Suzuki Kizashi review by Clifford Atiyeh
Quick, name the last Suzuki you saw this week. Or this month. And it can't be a motorcycle or ATV. What, you didn't know Suzuki made cars? After two years of selling more than 100,000 cars in th ...
2008 Suzuki Grand Vitara review
The Grand Vitara's current generation made its debut for the 2006 model year, and we weren't impressed overall. Now, with the class of compact SUVs and wagons continuing to evolve and gas prices s ...