Gear Oil
Specified Gear Oil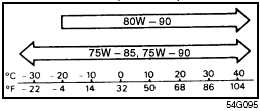 Manual transaxle (API GL-4)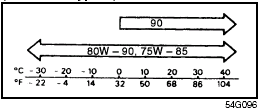 Rear differential oil (i-AWD)/Transfer oil of automatic transaxle model (i-AWD) (API GL-5 Hypoid)
When replacing gear oil, use the appropriate viscosity and grade as shown in the charts below.
We highly recommend you use: API GL-4 SAE 75W-90 for manual transaxle gear oil
API GL-5 hypoid gear oil SAE 80W-90 for rear differential oil (i-AWD) and transfer oil of automatic transaxle model (i-AWD)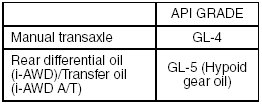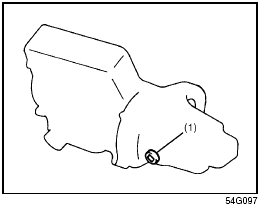 Manual transaxle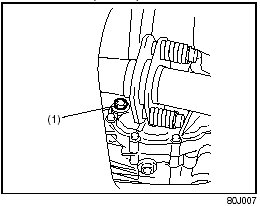 Transfer case (i-AWD)
(1) Oil filler and level plug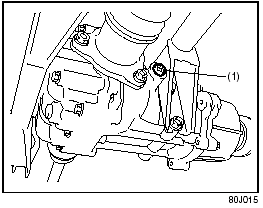 Rear differential (i-AWD)
(1) Oil filler and level plug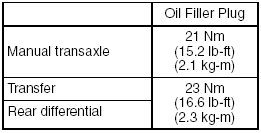 Tightening torque
Gear Oil Level Check
The manual transaxle, transfer gears (i- AWD A/T) and rear differential (i-AWD) are lubricated with gear oil. To check the gear oil level in any of the above locations, use the following procedure: 1) Park the vehicle on a level surface. Set parking brake and stop the engine.
2) Remove the oil filler plug (1).
3) Check the inside of the hole with your finger. If the oil level comes up to the bottom of the plug hole, the oil level is correct. If so, reinstall the plug.
4) If the oil level is low, add gear oil through the filler plug hole (1) until the oil level reaches the bottom of the filler hole.
Gear Oil Replacement
Since special procedures, materials and tools are required to change the automatic transaxle oil, it is recommended that you trust this job to your authorized SUZUKI dealer.
See also:
Gearshift Lever
Manual transaxle Automatic transaxle Your vehicle is equipped with either a manual transaxle or automatic transaxle. The gearshift lever for each transaxle type is shown. For details on how t ...
2008 Suzuki Grand Vitara review By Steven Cole Smith
The market for small sport utility vehicles is among the toughest in the automotive world: So many good products, but only so many buyers. What's a little manufacturer like Suzuki to do? Offer g ...
Improving Fuel Economy
The following instructions will help you improve fuel economy. Avoid excessive idling If you are to wait for more than a minute while you are parked, stop the engine and start it again later. Whe ...