Engine Hood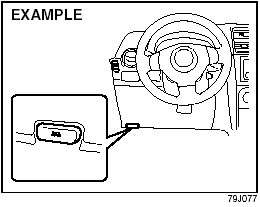 To open the engine hood: 1) Pull the hood release handle located on the outboard side of the driver's side of the instrument panel. This will disengage the engine hood lock half-way.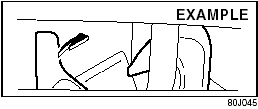 2) Push the under-hood release lever sideways with your finger, as shown in the illustration. While pushing the lever, lift up the engine hood.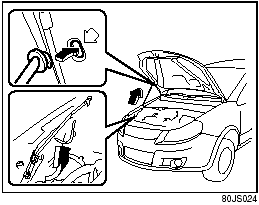 3) Continue to lift up the hood until it is high enough to support with the prop rod.


WARNING:
Make sure the hood is fully closed and latched before driving. If it is not, it can fly up unexpectedly during driving, obstructing your view and resulting in an accident.
See also:
Location of Warning Messages
Read and follow all of the warnings (labels etc.) on your vehicle. Make sure you understand all of them. Keep them on the vehicle. Do not remove the messages for any reason. If a label comes off o ...
Gear Oil
Specified Gear Oil Manual transaxle (API GL-4) Rear differential oil (i-AWD)/Transfer oil of automatic transaxle model (i-AWD) (API GL-5 Hypoid) When replacing gear oil, use the appropriate ...
Cigarette Lighter and Ashtray
Cigarette Lighter (if equipped) To use the cigarette lighter, push it all the way into the receptacle and release it. It will automatically heat up and will pop out to its normal position when i ...