Engine Hood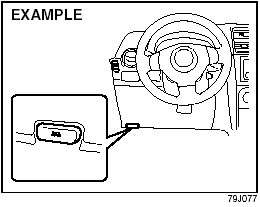 To open the engine hood: 1) Pull the hood release handle located on the outboard side of the driver's side of the instrument panel. This will disengage the engine hood lock half-way.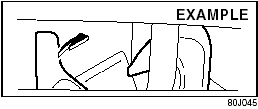 2) Push the under-hood release lever sideways with your finger, as shown in the illustration. While pushing the lever, lift up the engine hood.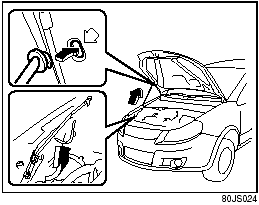 3) Continue to lift up the hood until it is high enough to support with the prop rod.


WARNING:
Make sure the hood is fully closed and latched before driving. If it is not, it can fly up unexpectedly during driving, obstructing your view and resulting in an accident.
See also:
Other Controls and Equipment
...
Improving Fuel Economy
The following instructions will help you improve fuel economy. Avoid excessive idling If you are to wait for more than a minute while you are parked, stop the engine and start it again later. Whe ...
2007 Suzuki Grand Vitara review
The small-SUV market is a tough league to play in, full of worthy contenders such as the Ford Escape, Toyota RAV-4, Honda CR-V, Mitsubishi Outlander, Jeep Compass and the Korean twins, the Hyundai ...