Assist Grips (if equipped)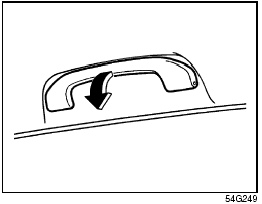 Assist Grips (if equipped)
Assist grips are provided for convenience.
CAUTION:
To avoid damaging the assist grip and the molded headlining, do not hang down the assist grip.
See also:
2009 Suzuki Equator review By John Stewart
Suzuki has long manufactured high-performance motorcycles and has been a player in marine engines, ATVs, dirt bikes and other recreational equipment. It has sold more than 100,000 vehicles per yea ...
Frame Hooks
SX4 Front (1) SX4 SEDAN Front (1) SX4 Rear (2) SX4 SEDAN Rear (2) Side (3) Frame hooks are provided on the front (1), rear (2) and side (3) of the vehicle. The hooks (1) and (2) ...
Luggage Compartment Cover
Luggage or other cargo placed in the luggage compartment can be hidden from view by a luggage compartment cover. However, the luggage compartment covers are not designed to support items loaded o ...